As we go through these tough times, we need to look after each other. Dublin has entered level 3 so here at OnTheQT we decided to share some outdoor walks you can do in the fresh air in Dublin while staying a safe distance from others. Your mental health is very important and fresh air will help clear your head during these times. Below are a list of some of our favourite walks in Dublin. Always be mindful if you think a place looks busy, avoid going for your walk in that area. Go for your walk in a different spot. Dublin is full of beautiful places to walk and enjoy so you are spoilt for choice.
Ticknock
Ticknock has up to 10km of mountain and forest walks to choose from with spectacular views of Dublin city, Dublin Bay, Bray Head and the Wicklow Mountains. The Fairy Castle Loop is a beautiful looped walk with stunning views of Dublin from the Three Rock Mountain and Fairy Castle. It is a 6 km moderate Hike that takes you from Ticknock forest to the top of Three Rock mountain and then onto the summit. It is a moderate hike which should take about 1 hour and 40 minutes.
North Bull Island
Bull Island is a UNESCO Biosphere Reserve. It makes for a beautiful nature walk and is the perfect spot to birdwatch. It is the most beautiful place for a walk for any nature lovers. You can enjoy views of Poolbeg, the Great South Wall, along with views of the Dublin and Wicklow mountains. This is an amazing place for birdwatching and a must see for any nature lovers.
Poolbeg Lighthouse Walk
This is a beautiful walk and a chance to breathe in the sea air. The walk is about 4km in length out along the Great South Wall. It is a gem located not far from Dublin city centre. Poolbeg Lighthouse was built in 1768 and operated with candles as a light source for almost 20 years. It sits at the end of the Great South Wall in Dublin which was the longest in the world when it was originally built. The walk takes about 60 to 80 minutes to complete and it can be windy so be sure to wrap up warm.
Howth Cliff Walk
This walk is simply beautiful and we would recommend trying to time your walk so you finish as the sun sets as it is a spectacular experience with the scenery. We recently did this walk and started on the green route before moving onto the purple route. The purple route was our favourite as it was more off the beaten track with very few people walking it. We even made it to the Howth Summit and what a view from the top. We were walking for about 3 house in total but we stopped a lot to take photos and videos. We just couldn't help it. A walk we would highly recommend.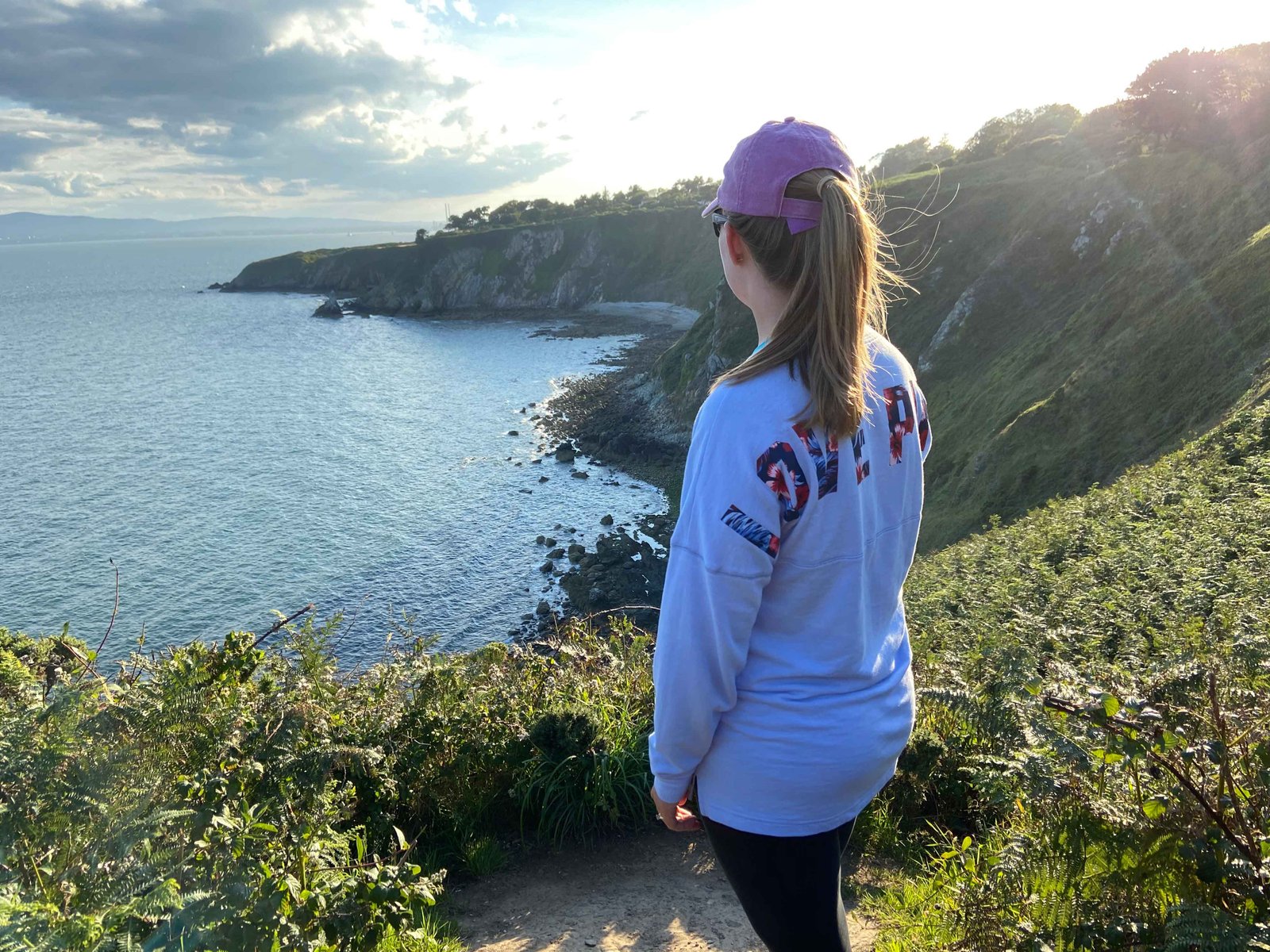 Montpelier Loop Trail/Hellfire Club
This walk starts near Montpelier Hill which is north of Dublin's Marlay Park and Edmonston. The walk itself is a moderate 4km looped walk and should take you about an hour and 10 minutes, depending on the time you spend admiring the panoramic views at the top.
The Killiney Hill Walk
If you are looking for a short walk with beautiful views, the Killiney Hill Walk for you. This walk should take 20 to 50 minutes depending on where you decided to start. At the top, you will get to admire incredible panoramic views over Dublin.
Kiltipper to Glencullen/ Dublin Mountains Way
If you are looking for a challenge, this 32km walk is calling your name. Note that this hike will take a full day and you will need proper hiking gear. It starts at Kiltipper and goes through bog, forest, woodland and even runs along rivers and mountains. Glencullen will be your final destination. Nothing beats a day long hike with beautiful surroundings.
The Tibradden Mountain Trail
This walk lies between Cruagh and Kilmashogue mountains. This trail is located just a 40 minute drive from Dublin. Start your walk at the zipline centre and follow the red trail marks to take you to the top of Tribadden Mountain. It is a 2.5km and takes about 2 hours to complete. It starts with a relaxed walk through the forest before hiking up the mountain to the summit.
Malahide to Portmarnock Coastal Walk
This walk should take anywhere between 30 and 60 minutes. Walk from Malahide along the coast to Portmarnock and take in the beautiful sea views. A perfect walk with kids or to get some fresh air to clear your head after a day of work.